All You Need To Know About Nokia 3310
Finnish mobile device Nokia is in reboot mode as it gets ready for bringing a new version of its 17-year-old iconic Nokia 3310 handset in India for about Rs 3,449 along with its Android smartphones in the next quarter.
"Apart from this all the latest products– Nokia 3310, Nokia 6, Nokia5 and Nokia 3 — are going to available in the next quarter of this year. Average global selling price for Nokia 3310 will be Rs 3449,"  Chief Marketing Officer Pekka Rantala told PTI in an interview in Barcelona.
These are the bands which are used in some parts of the world such as Europe, Africa, the Middle East and Asia but they have been switched off in other regions –  South America and North Central typically use 850 MHz to 1900 MHz – and are gradually being phased out in other countries, too. This means that the new Nokia 3310 won't work in the regions where they could face problems in the future and where frequencies have been disabled if they are turned off in regions where the phone previously worked.
In Barcelona, the Nokia 3310 re-launch took place ahead of this year's Mobile World Congress. The handset is noticeably slimmer than the original Nokia 3310 before it was discontinued it was sold over 126 million units.The weight of the original was 133g and the new one is 79g which is almost the half of the weight of the original one.
The new phone has been developed by HMD, which acquired a ten-year of license in May 2016 to use the brand name "Nokia". In the developing market, the company used to sell a broad range of simple phones, but the Nokia 3310 will be sold worldwide as a "digital detox" phone.
Colours, Features and Specifications:
This phone is available in four different colours that are- gloss red, yellow, matte blue and grey.
The features of this new phone have been developed means that many of this new phone's internals have been updated, the latest 2017 version of the 3310 will use 900 MHz and 1800 MHz – the frequencies typically used for 2G communications before mobile data and 3G became popular.This Nokia 3310 is a dual SIM 2.5G feature phone with battery capacity 1200 mAH that promises around 22 hours of talk time with one-time full charge. It has 2 mega pixel camera with LED flash, 2.4-inch display with Bluetooth 3.0 and USB connectivity option, an FM Radio, LED Torch, 16 MB internal capacity with an external storage option of up to 32 GB.The 2.5G connection system in this phone will even let you go online – albeit very slowly – to access Facebook, Twitter and other services through the Opera Mini browser.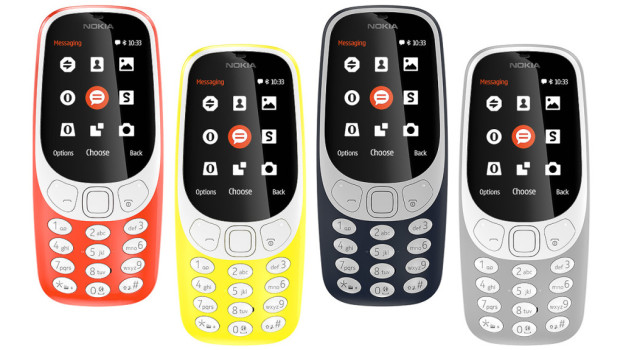 Price & Release date
You will be able to buy this phone only at price Rs. 3449 and it is expected to be release in the second quarter of 2017.
You can also see:  Nokia Edge 2017 Price, Features and Release date in India
(Visited 52 times, 1 visits today)
Spread Some Love, Forward to friends